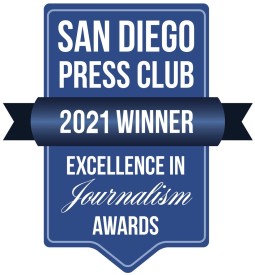 EAST COUNTY MAGAZINE WINS 11 AWARDS FROM SAN DIEGO PRESS CLUB'S 2021 EXCELLENCE IN JOURNALISM AWARDS

By Miriam Raftery
October 25, 2021 (San Diego) – East County Magazine tonight received 11 awards in San Diego Press Club's 48th annual Excellence In Journalism competition. The honors include three first place awards, recognitions for both our online news site and radio show coverage during the past year's turbulent times. ECM's awards span a broad range of categories, including three of the four awards presented for breaking news. Since its inception in 2008, ECM has won 137 major journalism prizes. See more…
OUR MISSION
Our mission is to provide in-depth news, views and events coverage for the inland areas in San Diego County, reflecting the broad diversity of people and issues in our region, particularly those under-represented in other media. As nonprofit media, we reflect the public interest—not special interests.
East County Magazine (www.EastCountyMagazine.org) is an award-winning nonpartisan community news organization and a dba of the nonprofit 501c3 Heartland Coalition in San Diego. East County Magazine also founded and operates East County Wildfire & Emergency Alerts, keeping people safe and informed throughout San Diego County via e-mail and Twitter alerts. In addition we produce the East County Magazine radio show on KNSJ 89.1 FM.
10/25/21
East County Magazine won 11 awards tonight in the San Diego Press Club 48th annual Excellence in Journalism competition – including 2 first place awards for our radio show! Thanks so much for your support of our show and giving us this important platform to get news out on the radio!
RADIO AND PODCASTS:
Specialty Reporting:
1st place, Miriam Raftery, Grossmont Hospital healthcare heroes reflect on pandemic
Interview/Talk:
1st place, Miriam Raftery, Interview with Congresswoman Sara Jacobs on capitol attack, impeachment, COVID relief and more
There was actually a third award for a piece that also aired on radio, but it was entered in a different category under Election Coverage in the daily news and websites category: 3rd place, Miriam Raftery: In lively forum, five candidates shared diverse views in El Cajon City Council District 2 race It aired on our site and later on radio, but since I'd maxed out entries in the radio category I entered it elsewhere.
OUR HISTORY
East County Magazine was launched in September 2008 out of the ashes of the 2007 and 2003 firestorms, the worst in California history at that time, to fill a news void for our inland region, where many towns did not have a newspaper, and to provide real-time news during wildfires. During the 2007 firestorms our editor, then a reporter for another publication, received midnight e-mails from people trapped in a backcountry town, desperately seeking information on safe evacuation routes after their phone lines and cell phone towers burned down. We wrote a successful grant funded by San Diego Foundation for Change to launch the magazine and secured sponsorship to launch our wildfire alerts from Viejas. More recently the wildfire alerts are sponsored by SDG&E and the Grossmont Healthcare District, as well as our wildfire alert subscribers individual donations.
We've been growing ever since! In 2013, we expanded onto the airways, launching the East County Magazine radio show on the nonprofit public radio station KNSJ 89.1 FM, reaching listeners during prime-time drive-time across our region on Mondays, Wednesdays and Fridays from 5 to 6 p.m.,
In 2018, on our 10-year anniversary, our founders established a new nonprofit, www.EastCountyMedia.org to sustain and support our efforts over the long-term. East County Media has its own board of directors and raises funds to sustain our local community reporting and alerts.
OUR TRAFFIC
Our site now averages 12 million hits a month and an average of over 500,000 visitors a month (per AW stats), making us the most widely read East County news site and second most widely read news site in San Diego County. During the pandemic, our readership has doubled as more people come to value reliable local news. According to Alexa, we have more online readers than Voice of San Diego, CityBeat, KOGO, and all East County newspapers. Our traffic is on par with 10 News, one of our official news partners.
OUR AWARDS: STORIES MAKING A POSITIVE DIFFERENCE
East County Magazine has won 126 major journalism awards. San Diego Press Club named our site the best general interest website and second best news site in San Diego County for 2009. We've racked up awards each year since then, including many special awards from the Society of Professional Journalists. Our team of writers has won major prizes for investigative reporting, news, features, multi-cultural coverage, environmental reporting and more.