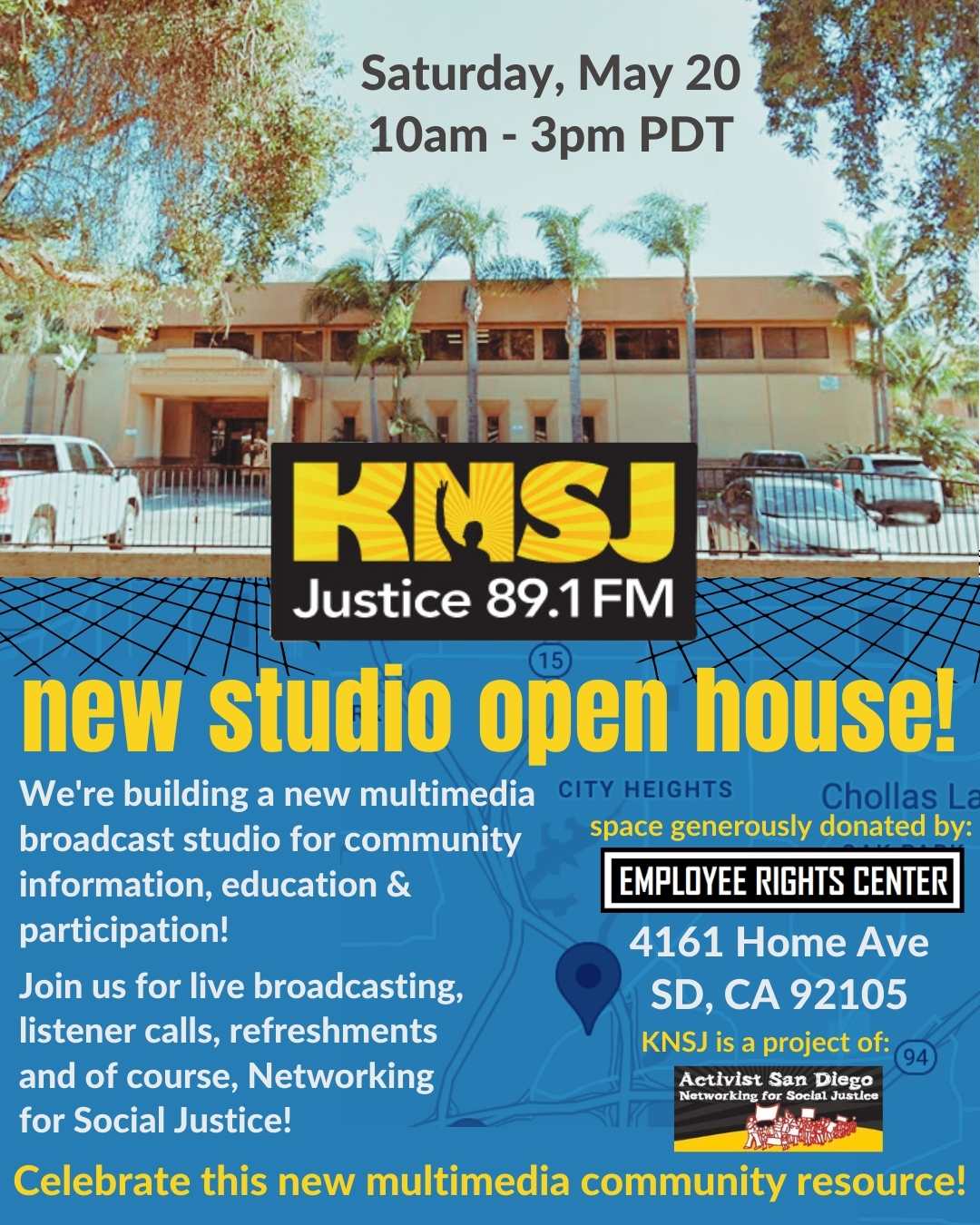 LOCATED AT 4161 HOME AVENUE, SAN DIEGO 92105 INSIDE THE EMPLOYEE RIGHTS CENTER
PRESS RELEASE
By KNSJ Staff
Published May 9, 2023
KNSJ, San Diego's radio network for social justice, announces an open house of its new studio from 10 am-3 pm Saturday, May 20, with a ribbon cutting ceremony at noon. Lori Saldaña, former Speaker of the California House, will be the official ribbon cutter opening up the new studio. Located inside the Employee Rights Center at 4161 Home Avenue in San Diego, the new studio will be open to its friends, listeners and supporters who have helped make KNSJ's vision a reality, as well as welcoming the general public to the open house. From 10 am to 3:00 pm, KNSJ will be broadcasting live, taking calls, serving refreshments, and connecting with its most valuable resource: members of the listening community.
"The new KNSJ broadcast and production facility marks the beginning of our partnership with the Employee Rights Center, an organization dedicated to advancing the rights of San Diego workers," says KNSJ General Manager Martin Eder. "The ERC has generously established a wing of their new headquarters as the official base for all KNSJ operations. The new studio will be a major upgrade allowing us more opportunities for community outreach and new video and audio capabilities for improved production quality. We hope that our enhanced capabilities for growth will also encourage even more community involvement."
The May 20th KNSJ Community Open House is an opportunity for the public to see what the future holds in store for volunteer-run KSNJ and its listening community. KNSJ is a listener-supported and listener-involved station. During the open house, the public is invited to find out how they can become a participant in the independent media platform needed in the San Diego and border region.