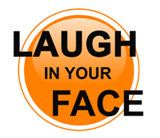 Laugh in Your Face Radio
Tue & Thu 5pm, Sun 7pm, Sat 2pm
"We Laugh In The Face of Boring Main Stream Media With Unusual News, Great Interviews, The Green Scene, Sketches, Science Reports, Great Music, and Biting Social Commentary! " Also featured is radio co-author and stand up comic and writer Wally Wang. His heralded segments include: "Really Bad Movements," "World Wide Web" and "The Dark Side.
Check out their FaceBook page.
The "Laugh In Your Face Radio" team consists of Radio Personalities and Stand Up Comedians:
Chris Clobber, Diane Jean, Al Gavi and professional Surfer Young Lucas. With special features from Comedians: Ikaika Patria and Robert Weems.